Originally published in the November 1943 issue of Amazing Stories
WIN $1,000.00..!
$2,000.00 If you are in the Service
PRIZES TO BE PAID IN MATURITY VALUE WAR BONDS
HERE'S HOW
On the opposite page you see an illustration. All you have to do is write a short-short story of approximately one thousand words based on what you see in this illustration! What it's all about, we don't profess to know. That's up to you. Regardless of the fact that it may even be ex-Fuehrer by the time of the contest, that is your problem, and part of the contest. Using the illustration as a springboard, write a short story which has as an integral part of its makeup the scene our artist has imagined. Usually the artist illustrates the story after it is written; in this case we reverse the procedure. Here's the illustration, you write the story to fit it!
ANYONE CAN ENTER
You don't have to be a regular reader of this magazine, nor a subscriber, nor a writer. Anyone at all, except employees of Amazing Stories, the Ziff-Davis Publishing Co., and their families, can submit one or more stories for competition. Your entries are limited only to the plots the illustration suggests. If you happen to be a member of the armed forces, any branch at all, you will receive double value, or war bonds totaling a maturity value of $2,000.00.
RULES OF CONTEST
Contest open to all except employees of Amazing Stories, the Ziff-Davis Publishing Company, and their families.
Write your story on one side of the paper only, using ink or typewriter.
Story should be approximately 1,000 words in length.
No entry will be returned. Other published stories will be paid for at our usual rate.
The editors of Amazing Stories will be the judges in this contest. Their decision is accepted as final by all contestants.
Contest editors regret that they are unable to entertain correspondence of any kind regarding entries.
Prize winning story becomes the property of Amazing Stories.
All entries must be in the hands of the contest editors at midnight of November 10, 1943.
Winner will be announced in the March, 1944, issue of Amazing Stories, on sale on or about January 10, 1944.
In case of ties, stories will be judged as to neatness, conciseness and clarity of presentation.
Address all entries to Contest Editors, Amazing Stories, 540 North Michigan Ave., Chicago 11, Illinois.
WIN THIS CONTEST - - AND HELP WIN THE WAR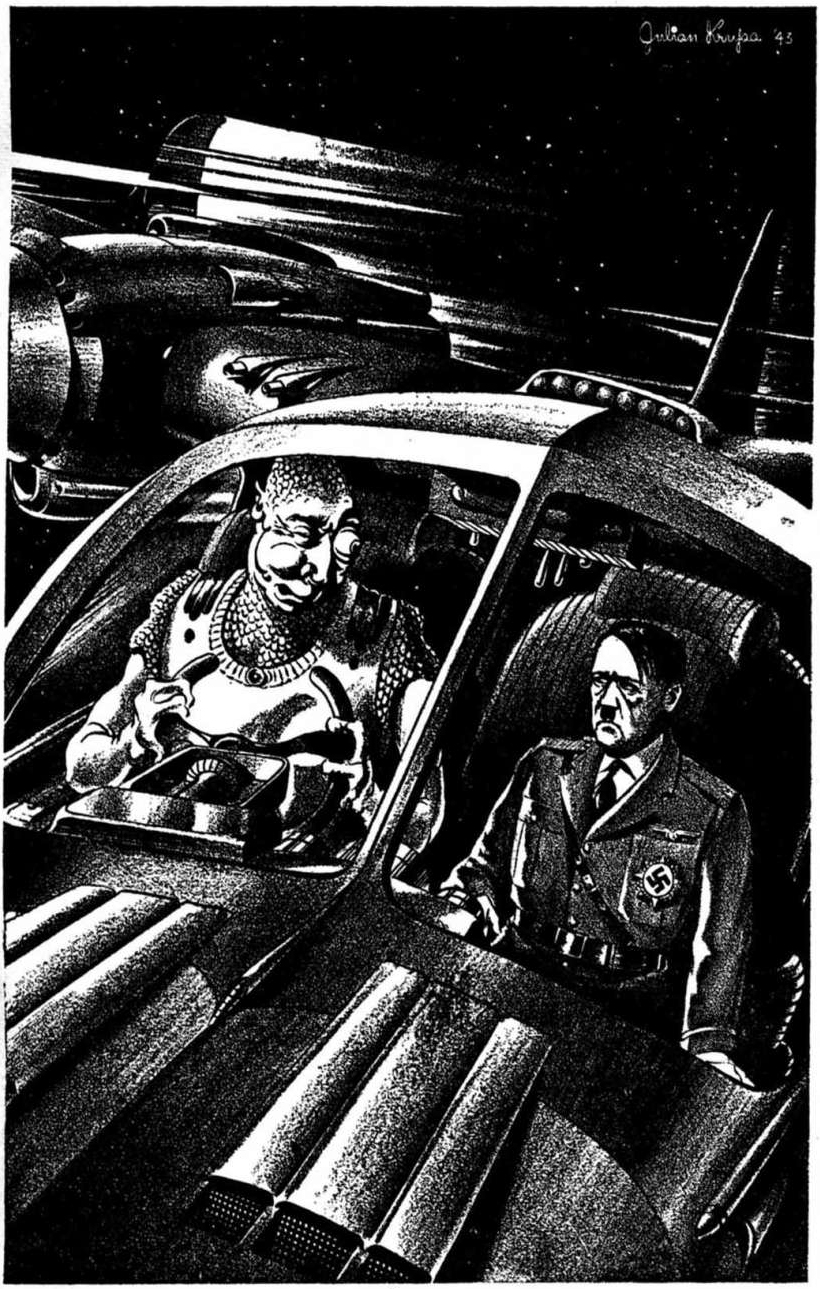 ---
---
Originally published in the March 1944 issue of Amazing Stories
AMAZING STORIES
$2000 WAR BOND
AMAZING STORIES is pleased to announce the winner of the Hitler Illustration Contest presented in the November, 1943, issue.
Given the illustration reproduced here, contestants were to write a short-story of approximately 1,000 words about it. It was to be a story of Hitler seated in a plane or spaceship beside an unhuman-looking being.
As a grand prize for the best story written around this illustration, AMAZING STORIES offered $1,000 in maturity value war bonds, with the stipulation that the prize would be doubled if the winner was a member of any branch of the armed forces. The final tabulation of the contest by the judges revealed the winner to be a captain in the medical corps of the United States Army! Therefore, AMAZING STORIES is proud to present a $2,000 war bond and extend its hearty congratulations to:
CAPTAIN MEYER FRIEDENSON, M.C., U.S.A.
(HOME ADDRESS) 711 WALTON AVENUE
BRONX, NEW YORK
A United States series E War Bond for $2,000 (maturity value)
has been sent to Captain Friedenson.
The winning story was selected from among ten finalists. Honorable mention goes to the following nine contestants (listed alphabetically, not in the order of excellence).
| | |
| --- | --- |
| ARTHUR BERKOWITZ, | Rt 1, Box 534-D, La Canada, California. |
| EANDO BINDER, | 136 Tenafly Road, Englewood, New Jersey. |
| MRS. IONE BLOODSWORTH, | 976G Rosensteel Ave., Forest Glen, R. F. D., Silver Spring, Md. |
| CPL. WILLIAM J. EVANS, | Det Med. Dept., U. S. Army. |
| MISS NELL G. FAHRION, | 747 Pennsylvania Street, Denver 3, Colorado. |
| 1ST. LT. MARTIN E. KOSKELA, | Coast Artillery Corps, U. S. Army. |
| CLAYRE STRZELECKI LIPMAN, | 220 Sausalito Blvd., Sausalito, California. |
| MICHEL LIPMAN, | 220 Sausalito Blvd., Sausalito, California. |
| JOHN FIELD MULHOLLAND, | Round Lake. Minnesota. |
CONTEST WINNER
---


---
I WAS born in Polotsk, Russia, scene of much current war activity, on May 15, 1905, and was brought to this country at the age of 18 months.
I lived in New York City until the age of 14, attending the public schools there. My family then moved to Connecticut, first to Ansonia and then to New Haven.
I entered Yale University in 1920 at the age of 15 and received my B. S. degree in 1924, and my M. D. in 1927.
I interned a year in Wilmington, Delaware, and another year in New York City, and commenced practice in 1929 in New York, which has been my home ever since.
I am a member of numerous medical societies, am certified as a specialist in internal medicine and cardiology. I have had several hospital appointments and am cardiologist for the New York City Health Department.
I have published numerous medical articles in a number of scientific journals, but have hitherto never submitted any item of fiction.
I have been married for 15 years, have a daughter aged 13, who has literary ambitions, and a son aged 8, who aspires to the practice of medicine.
I have been reading your magazine intermittently for the past 15 years.—M. Friedenson, Capt. M. C.
CAPTAIN FRIEDENSON'S prize-winning story is presented on the following pages (folios 14 and 15) almost exactly as he wrote it, with the exception of minor editing such as all manuscripts receive before publication. The editors express the opinion that Captain Friedenson, whose experience along fiction lines, he reveals, has been initiated by this first story, did a mighty swell job of explaining the story significance behind our contest illustration. His story answered several basic demands which all good fiction must have, and at the same time, made several unique emotional appeals which apply directly to the modern world situation. His story is truly escapist material, both in the imaginative sense, and in the emotional sense. Perhaps no more delicate and complete punishment could be devised for the man the whole world hates! Turn the page and read....
THE SUPERMAN
By CAPTAIN MEYER FRIEDENSON
(Winner in Amazing Stories' Hitler Illustration Contest. See page 12.)
"WELL, Mephitis—or Adolf Hitler, to keep the record straight—you've failed again! Back to Mars you go..."
"Wait! Wait! Please! Give me just a little more time! After all, it isn't over yet. I have had only a temporary setback. I'll get started again and then I'll certainly make it. Please give me only one more chance."
"No, we can't do it! We've given you 1,500 years already. Isn't that enough? You've delayed our plans by centuries. All the other planets of the solar system have been overcome and are completely under our control. Your mission was to subjugate Earth, the only unconquered planet, and you didn't do it.
"When you were defeated as Attila at Chalons in 451, all we got was excuses. 'You were betrayed—the weather had unexpectedly turned against you—you didn't have adequate weapons!' You said, 'Just wait until next time!'
"So we waited 750 years until Genghis Khan—and what happened? Again failure! True, you conquered China, then most of Asia, swept westward to the Danube. You were ruthless, merciless. Remember your pyramid of skulls? But finally you weakened and once more you failed! And again what did we get? Excuses—just excuses!
"We gave you another 600 years and Napoleon. In him you fought and killed and conquered your way all across Europe, but you just didn't have it in you. Remember the retreat from Moscow? Then 1815 and Waterloo?
"Our patience had by that time become exhausted! But you begged and whined and pleaded until, in spite of our better judgment, we consented to give you another century or so.
"But now you've had your final chance, Mephitis, my friend! You made a good beginning in rearming the Rhineland and taking Czechoslovakia. You seemed at your best in Poland, Luxembourg, Holland, Belgium, Denmark and Norway (bettering that Earth upstart, Hohenzollern). When your planes attacked England, we thought that you were finally on the road to success. You did have the English on their knees, but you didn't finish them. Then again you misjudged the Russians! For the final time, Mephitis, you've failed. You must be liquidated. We've no use for failures."
---


---
"But it isn't over yet! They double-crossed me, those damned Russians! In spite of our mutual non-aggression pact, they stealthily built up their army, their air force, their factories. How could I have known that they would be such liars and such sneaks? They pretended to be weak!
"I'll beat them yet! Just give me a chance! Even now our armies in Russia are proceeding westward according to plan. We'll entice them all the way to Germany and then you'll see! I am still strong. I have most of Europe under my thumb. Think of my army and my air force! The Japanese will help us. They promised they would! Then we'll get them too. Please give me just a little more time!"
"No, Mephitis Hitler, this time you are coming back to stand trial for your failures!"
The spaceship sped smoothly and rapidly through the void for several days. Landing at a spaceport on the outskirts of an enormous city, Hitler and his captor took a rapid ground vehicle to a tall, gloomy structure at its center. They entered, proceeded down a long corridor to an elevator which took them down far below the surface. Stepping from the elevator, they walked toward a large chamber marked "Court of General Failures." They entered.
Court was in session. Three redrobed judges officiated from an elevated platform at one end of the dank, bare room which was entirely devoid of furniture, without even so much as a chair for the defendant. There was no audience.
The prisoner stood facing the court. Two of the judges appeared extremely bored: one yawned continuously—the other was frankly asleep.
An attendant handed a thick file labeled "Mars versus Mephitis" to the third judge who barely glanced at it.
"You are accused of failure to carry out your mission to conquer Earth, and thus of hampering our plans to subjugate the entire solar system. We won't waste too much time on the trial because the facts in this case speak for themselves. So we'll dispense with prosecution witnesses.
"There will be no need for a defense counsel because this court is absolutely honest and unprejudiced. It will impartially consider the interests of both sides.
"Prisoner at the bar, have you brought any witnesses to testify in your defense?"
"No, your Honor. I was brought here so unexpectedly that—"
"Well, we'll do without them. You won't need witnesses anyhow. Do you deny the truth of these charges?"
"Well, you see—"
"This court, after earnest and careful consideration of all the evidence and all the circumstances finds you guilty as charged. Have you anything to say before sentence is passed?"
"Please—"
"That will be all. We have given you too much time already. Years1 are passing." He turned to his colleagues, both of whom were restlessly glancing at their watches. "Are we agreed?"
"Yes, yes," said the two in unison. "Let's get it over with. Whatever you say..."
"Then it is the sentence of this court that you be banished from Mars and from Earth for eternity. You will spend your days in solitude on a barren asteroid one mile in diameter. You will be forced to listen continuously to scratchy recordings of all your speeches on Earth.
"To show you that this court is not entirely without mercy, it will grant you a respite of one day for any year during which a single kind word has been said of you anywhere either on Mars or on Earth.2 On such a day you may have the blessing of complete silence. The burden, both to find the evidence of the kind word and to prove it to this court, will, however, fall on you. Since you will be unable to leave the asteroid, either to hear what is being said on Earth or Mars, or to inform the court of it; and since no one will be able to communicate with you, we can't see how this will help you very much. That will, however, be your problem.
"TAKE HIM AWAY!"
THE END