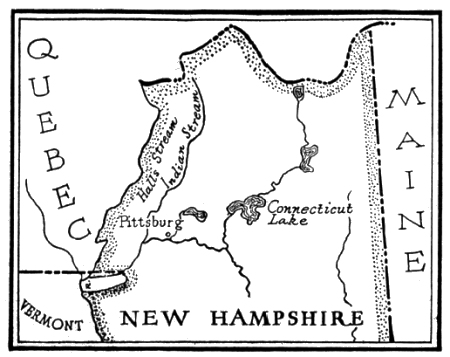 Little Lost Republic
ALMOST forgotten among the events of this swiftly-moving age is the Lost Republic of Indian Stream. Few students of American history can lift their hands to attest that they have even heard of Indian Stream. Gone, too, are all, or nearly all, who saw that strange strip of_ territory on New Hampshire's Canadian border stand off the might of two great governments and strive desperately to maintain its independence.
The government records of the case are moldering in the archives at Washington and Ottawa. Even New Hampshire now seldom recalls the affair, and Luther Parker, "President of the Indian Stream Republic," who, with a staunch body of settlers, defied troops and warring authorities and defended the domain, is but a dim memory to the few who remember.
The argument over Indian Stream and its 160,000 acres and three hundred citizens lasted for almost sixty years—in fact, from the Treaty of Paris in 1783 to the Ashburton treaty of 1843. It all came about because three New Hampshire traders secured from Chief Phillip of the St. Francis tribe a deed to the territory of Indian Stream on the most northerly boundary' of New Hampshire.
A survey after the Revolution had determined the boundary limits of Canada and the United States. In those days, however, surveyors were not always too clear with their local definitions, so that the actual boundary line was subject to two interpretations. It was either at a creek known as Hall's Stream or some miles further south at the Connecticut River. The tract in dispute was of magnificent fertility and scenic beauty.
"Connecticut Lake, chief of the river's headwaters, lies 1,618 feet above the sea level," writes one visi...

This is only a preview of this story. The site administrator is evaluating methods to bring it to you.