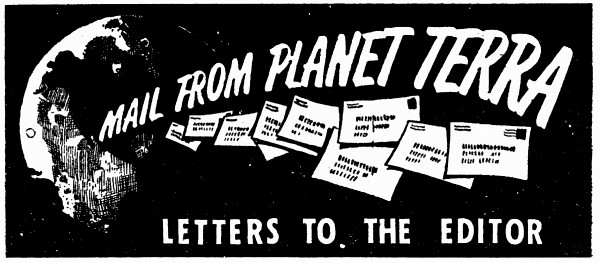 The first issue of OUT OF THIS WORLD ADVENTURES aroused at great amount of mail, as might be expected of any first issue, and was surely to be expected of as different a first issue as ours. If we were to do justice to all the letters that came in, we would have to turn over all the pages of this magazine to letters alone. We're sure no one wants us to do that, and we are also sure that readers prefer fiction to comment. For that reason we must regretfully omit many of the interesting letters we have received and we must limit ourselves in many cases to publishing excerpts from comments rather than the whole letters. You are invited to write to us about this issue and let us know your thoughts and suggestions.
D. A. W.
---
FLYING SAUCERS
Dear Editor:
I have been a reader of Fantasy stories for a great many years and after perusing the first issue of your new magazine, I am writing my first fan letter to tell you that I really enjoyed the stories.
Although I have always had a preference for stories of prehistoric civilizations, etc., I have become more interested recently in "out of this world" adventures, such as space and Time. The "Flying Saucers" of the present day (?) have become such a controversial subject that one has the feeling that there must be something going on of which the general public is in ignorance. Of all the stories in your magazine, the one by Mack Reynolds stands out in my mind. . . . One wonders if his story "The Discord Makers" is altogether fiction.
I am glad Fantasy magazines are getting away from "horror" covers. I believe such type of covers have been a detriment to the magazines in the past, for certainly more people are buying stf magazines than ever before. Some covers were much too nightmarish for the general public who would not buy them. Many people still think oi the stories as "trash" but I have found some very interesting theories in many of them.
Wishing your new publication the best of luck, I am, Yours truly,
E. Gordon,
1069 E. Market St., Akron, Ohio
IT'S TERRIFIC
Dear Editor:
Out of This World is one of the best things that ever happened to the fantasy and science fiction world. It's terrific!
Being only 16 years old, I just love your illustrated section. Please make it longer. I enjoyed every story and the art work is darn good.
You'll have to put O.O.T.W. out on a monthly basis or I'll go nuts waiting ...

This is only a preview of this story. The site administrator is evaluating methods to bring it to you.