ents of Luther Trant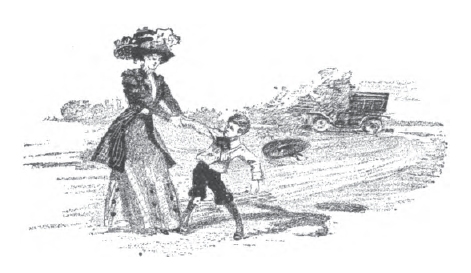 III
THE RED DRESS
Originally published Hampton's Magazine, July 1909.
---
"Another morning; and nothing! Three days gone and no word, no sign from her; or any mark of weakening!"
The powerful man at the window clenched his hands. Then he swung about to face his confidential secretary and stared at her uncertainly. It was the tenth time that morning, and the fiftieth time in the three days just gone, that Walter Eldredge, the young president of the great Chicago drygoods house of Eldredge and Company, had paused, incapable of continuing business.
"Never mind that letter, Miss Webster," he commanded. "But tell me again—are you sure that no one has come to see me, and there has been no message, about my wife—I mean about Edward—about Edward?"
"No; no one, I am sure, Mr. Eldredge!"
"Send Mr. Murray to me!" he said.
"Raymond, something more effective must be done!" he cried, as his brother-in-law appeared in the doorway. "It is impossible for matters to remain longer in this condition!" His face grew gray. "I am going to put it into the hands of the police!"
"The police!" cried Murray. "After the way the papers treated you and Isabel when you married? You and Isabel in the papers again, and the police making it a public scandal! Surely there's still some private way! Why not this fellow Trant. You must have followed in the papers the way he got immediate action in the Bronson murder mystery, after the police force was at fault for two weeks. He's our man for this sort of thing, Walter! Where can we get his address?"
"Try the University Club," said Eldredge.
Murray lifted the desk phone. "He's a member; he's there. What shall I tell him," Eldredge himself took up the conversation.
"Yes! Mr. Trant? Mr. Trant, this is Walter Eldredge, of Eldredge and Company. Yes; there is a private matter—something has happened in my family; I cannot tell you over the phone. If you could come to me here. . . . Yes! It is criminal." His voice broke. "For God's sake come and help me!"
Ten minutes later a boy showed Trant into the young president's private room. If the psychologist had never seen Walter Eldredge's portrait in the papers he could have seen at a glance that he was a man trained to concentrate his attention on large matters; and he as quickly recognized that the pale, high-bred, but weak features of Eldredge's companion belonged to a dependent, subordinate to the other.
Eldredge had sprung nervously to his feet and Trant was conscious that he was estimating him with the acuteness of one accustomed to judge another quickly and to act upon his judgment. Yet it was Murray who spoke first.
"Mr. Eldredge wished to apply to the police this morning, Mr. Trant," he explained, patronizingly, "in a matter of the most delicate nature; but I—I am Raymond Murray, Mr. Eldredge's brother-in-law—persuaded him to send for you. I did this, trusting quite as much to your delicacy in guarding Mr. Eldredge from public scandal as to your ability to help us directly. We understand that you are not a regular private detective."
"I am a psychologist, Mr. Eldredge," Trant replied to the older man, stifling his irritation at Murray's manner. "I have merely made some practical applications of simple psychological experiments, which should have been put into police procedure years ago. Whether I am able to assist you or not, you may be sure that I will keep your confidence."
"Then this is the case, Trant." Murray came to the point quickly. "My nephew, Edward Eldredge, Walter's older son, was kidnaped three days ago."
"What?" Trant turned from one to the other in evident astonishment.
"Since the Whitman case in Ohio," continued Murray, "and the Bradley kidnaping in St. Louis last week—where they got the description of the woman but have caught no one yet—the papers predicted an epidemic of child stealing. And it has begun in Chicago with the stealing of Walter's son!"
"That didn't surprise me—that the boy may be missing," Trant rejoined. "But it surprised me, Mr. Eldredge, that no one has heard of it! Why did you not at once give it the greatest publicity? Why have you not called in the police? What made you wait three days before calling in even me?"
"Because the family," Murray replied, "have known from the first that it was Mrs. Eldredge who had the child abducted."
"Mrs. Eldredge?" Trant cried incredulously. "Your wife, sir?" he appealed to the older man.
"Yes, Mr. Trant," Eldredge answered, miserably.
"Then why have you sent for me at all?"
"Because in three days we have gained nothing from her," the brother-in-law replied before Eldredge could answer. "And, from the accounts of your ability, we thought you could, in some way, learn from her where the child is concealed."
The young president of Eldredge and Company was twisting under the torture of these preliminaries. But Trant turned curiously to Murray. "Mrs. Eldredge is not your sister?"
"No; not the present Mrs. Eldredge. My sister, Walter's first wife, died six years ago, when Edward was born. She gave her life for the boy whom the second Mrs. Eldredge—" he remembered himself as Eldredge moved quickly.
"Isabel, my second wife, Mr. Trant," Eldredge burst out in the bitterness of having to explain to a stranger his most intimate emotion, "as I thought all the world knew, was my private secretary—my stenographer— in this office. We were married a little over two years ago. If you remember the way the papers treated her then, you will understand what it would mean if this matter became public! The boy —" he hesitated. "I suppose I must make the circumstances plain to you. Seven years ago I married Edith Murray, Raymond's sister. A year later she died. About the same time my father died, and I had to take up the business. Mrs. Murray, who was in the house at the time of Edith's death, was good enough to stay and take charge of my child and my household."
"And Mr. Murray? He stayed too?"
"Raymond was in college. Afterwards he came to my house, naturally. Two years ago I married my second wife. At Mrs. Eldredge's wish, as much as my own, the Murrays remained with us. My wife appreciated even better than I that her training had scarcely fitted her to take up at once her social duties: the newspapers had prejudiced society against her, so Mrs. Murray remained to introduce her socially."
"I see—for over two years. But meanwhile Mrs. Eldredge had taken charge of the child?"
"My wife was—not at ease with the boy." Eldredge winced at the direct' question. "Edward liked her, but—I found her a hundred times crying over her incompetence with children, and she was contented to let Mrs. Murray continue to look after him. But after her own son was born —"
"Ah!" said Trant, expectantly.
"I shall conceal nothing. After her own son was born, I am obliged to admit that Mrs. Eldredge's attitude changed. She became insistent to have charge of Edward, and his grandmother, Mrs. Murray, still hesitated to trust Isabel. But finally I agreed to give my wife charge of everything and complete control over Edward. If all went well, Mrs. Murray was to reopen her old home and leave us, when—it was Tuesday afternoon, three days ago, Mr. Trant—my wife took Edward, with her maid, out in the motor. It was the boy's sixth birthday. It was almost the first time in his life he had left the house to go any distance without his grandmother. My wife did not bring him back.
"Why she never brought him back—what happened to the boy, Mr. Trant," Eldredge stooped to a private drawer for papers, "I wish you to determine for yourself from the evidence here. As soon as I saw how personal a matter it was, I had my secretary, Miss Webster, take down the evidence of the four people who saw the child taken away: my chauffeur, Mrs. Eldredge's maid, Miss Hendricks and Mrs. Eldredge. The chauffeur, Morris, has been in my employ for five years. I am confident that he is truthful. Moreover, he distinctly prefers Mrs. Eldredge over everyone else. The maid, Lucy Carew, has been also singularly devoted to my wife. She, too, is truthful.
"The testimony of the third person—Miss Hendricks—is far the most damaging against my wife. Miss Hendricks makes a direct and inevasive charge; it is practical proof. For I must tell you truthfully, Mr. Trant, that Miss Hendricks is far the best educated and capable witness of all. She saw the whole affair much nearer than any of the others. She is a person of irreproachable character, a rich old maid, living with ...

This is only a preview of this story. The site administrator is evaluating methods to bring it to you.