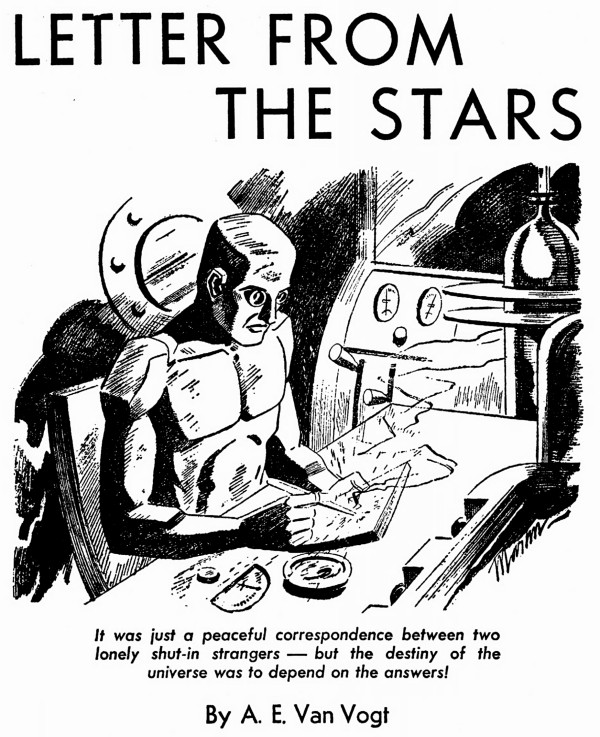 DEAR PEN PAL:
When I first received your letter from the interstellar correspondence club, my impulse was to ignore it. The mood of one who has spent the last seventy planetary periods—years I suppose you would call them—in an Aurigean prison, does not make for a pleasant exchange of letters. However, life is very boring, and so I finally settled myself to the task of writing you.
Your description of Earth sounds exciting. I should like to live there for a while, and I have a suggestion in this connection, but I won't describe it till I have developed it further.
You will have noticed the material on which this letter is written. It is a highly sensitive metal, very thin, very flexible, and I have inclosed several sheets of it for your use. Tungsten dipped in any strong acid makes an excellent mark on it. It is important to me that you do write on it, as my fingers are too hot—literally—to hold your paper without damaging it.
I'll say no more just now. It is possible you will not care to correspond with a convicted criminal, and therefore I shall leave the next move up to you. Thank you for your letter. Though you did not know its destination, it brought a moment of cheer into my drab life.
Skander, Planet Aurigae II
DEAR Pen Pal: Your prompt reply to my letter made me happy. I am sorry your doctor thought it excited you too much, and sorry, also, if I have described my predicament in such a way as to make you feel badly. I Welcome your many questions, and I shall try to answer them all.
You say the international correspondence club has no record of having sent any letters to A...

This is only a preview of this story. The site administrator is evaluating methods to bring it to you.